July 25, 8 am PST
Truth is Funny Radio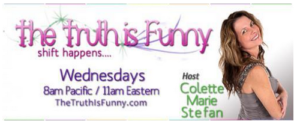 The show is aired live at www.transformationtalkradio.com.
Tuesdays, September 4-18
Writing from Dreams
A Workshop at the Piper Center for Creative Writing

Paul McCartney's song "Yesterday," Albert Einstein's Theory of Relativity, and Mary Shelley's Frankenstein are just a few creations that have come from dreams. But are the symbols of language and dreams arbitrary? Allegorical? Archetypal? How do dreams inform the creative process? This workshop looks deeply at the symbolism of dreams and the language of the subconscious, primarily from a Jungian perspective. Participants will share and discuss individual dreams* and learn how to deconstruct these dreams to gain a deeper understanding of the structure of story that inherently lives within each of us. Within a safe workshop space, each writer will uncover the symbolism of their personal dream landscape and use this information to compose new, meaningful written work.
Click here for more details and to register.